Rupande Shah has a major contribution to the development of cultural and music institutions in Gujarat, India. This live recording from Saptak Festival is an example of her dedication and inspiring performance.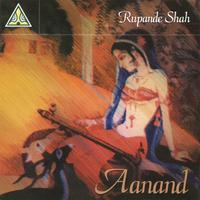 Tracks
1 Raga Kedar - Khayal 'Sej Nis Nind na Aaye' in Vilambit Ektaal
2 Raga Kedar - Khayal 'Chatur Sughar Balama Re'in Drut Ektaal
3 Raga Basant (Khayal 'Phoolwa Ab Phool Rahi Baname' in Madhya Tee
4 Raga Basant (Khayal 'Sarasarang Phool Rahe' in Drut Ektaal


Of all the Music festivals in India, Saptak in Ahmedabad, Gujarat is the most prestigious and well established. It's a star studded celebration of Indian Classical Music with twelve nights of inspired performances appreciated every evening by more than two thousand enthused listeners. Saptak has also created a vibrant music school, which, over twenty five years, has built up a reputation for high quality learning through the devotion and dedication of a small group of committed artists and teachers. This live performance from the festival recorded on the1st January 2003 features vocalist Rupande Shah who has made a major contribution to the development of cultural and music institutions in Gujarat through her inspiring performances and teaching.

Her father late Shri
Kantilal Manilal
was a great connoisseur of music. From her childhood, she was initiated in various performing arts under the guidance of Shri
Raosaheb Mhasker
of
Gwalior Gharana
.
She started her dance training at
Darpana
at the age of 8 under intensive training in
Bharatnatyam
,
Kathakali
and
Kuchipudi
dance styles for more than 10 years, winning several prizes for her performances.
She travelled widely all over India and throughout the World with
Darpana
as one of the lead dancers. She performed in famous ballets, like '
Tasher Desh
','
Bhanusinher Padavali
','
Geet Govind
','
Kurvanchi
'. At Darpana she also participated in the Gujarati theatre, acting in several plays performing leading roles in '
Shilapadikaram
', '
Navalsha Hirjee
','
Nishkruti
'. For which she received rave reviews. She received the best Actress Aware of the Sangeet Natak Academy in the year 1975/76, also appearing in various TV drama serials during that period.
In 1963 she accompanied Smt.
Mrinalini Sarabhai
to visit
the Institute of Advanced Studies In Theatre Arts
in
New York
as an
Assistant Director
to her for staging the
Sanskrit
play. '
Swapna Vasavdatta
' with an
all American cast
. At
Darpana
she also imparted training to young students in
Bharatnatyam
and
Kathakali
for several years.
Her training in music with Shri
Raosaheb Mhasker
was carried out in the background for about fifteen years when dancing was her main focus. She devoted herself to
Rabindra Sangeet
, songs of the celebrated
Bengali poet Rabindranath Tagore
, and
Ghazal
singing under
Shri Surendra Jaitley
and was a performing member of the '
Feetale
' Group. After that she began to train very seriously in
Classical Music
.
Ustad Gulam Kadir Khan
,
Pandit Manirmji
and
Ustad Gulam Ahmed Khan
imparted her intensive training. Finally
Pandit Rajan Mishra
guided her in the
Benares Gharana
style, helping her to expand her repertoire and initiated her in the finer points of concert performance.
She is a regular 'A' grade
All India Radio
(
Akashvani
) and
Doordarshan TV
Artist in India and has given performances in some of the most prestigious music festivals.
She is one of the Founder Trustees of
Saptak public Charitable Trust
which is dedicated to the cause of classical music. Apart from being associated with the day to day administration of the activities of the Trust she also oversees the vocal department at the
Saptak School of Music
.
Khayal
The most popular form of North Indian vocal music today is the 'Khayal'. It originated from the more austere form called 'Dhrupad'. Khayal has more ornamentation and is less rigid in form and content than Dhrupad. Breaking away from the rigidity of dhrupad, the khayal form gave the singer space to apply imagination and impose the artist's own style over the form.

Raga Kedar
Named after Lord Shiva, Raga Kedar is one of Indian music's most treasured musical creations. Kedar is a serious and contemplative raga, commonly symbolizing the portrayal of an ascetic who worships Shiva and is deeply absorbed in music or meditation. In performance it is usually associated with the late evening.

In its medieval form Kedar was a pentatonic raga omitting Re and Pa, based on the major scale, but in more recent times more notes have been added to make it a melodically complex raga only usually sung by vocalists practiced in the finer nuances of Indian music. Judging from the Sahasras (early 17th century), it was one of the main ragas performed by the Mughal court musicians.

Raga Basant
This is a very melodious raga associated with the joyful spring season and the playful holi festival when people sing, dance and throw coloured powder or squirt coloured water on each other. Basant means spring or the god of spring, who is frequently portrayed as Krishna, the god of love. The emphasis is on improvisations using the higher notes in the scale. Songs in this raga often portray the pain of separated lovers longing to be reunited in this colourful season.

- John Ball, from our partners CDBaby.com