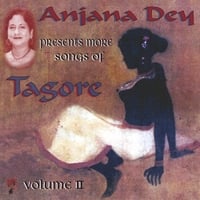 All twelve songs in the album have been chosen by Anjana. Themes of these songs are about the universe as we see, feel and deal with it with all our emotion. We cannot fathom its endless mystery. We can but say "Here you are" in Tagore's own words. "This is what this World is with which art has such intimate relationship"--- such emotion can only be expressed in poetic forms or through music!

1 Dui Hate Kaler Mandira Je
2 Akash Bhara Surja Tara
3 Madhya Dine Jabe Gaan
4 Aksh Jure Suninu
5 Aai Aai Re Pagal Bhulbi Re
6 Madhuro Tomar Shesh Je Na
7 Purano Sei Diner Katha
8 Tumi Sandharo Meghamala
9 Srabaner Dharar Maton Paruk
10 Amar Nai Ba Holo Pare Jaoa
11 Biswa Jakhan Nidra Magan
12 Gram Chara Oi Ranga Matir Path
Lyrics and Music were composed by Rabindranath Tagore. Many of the songs vocalized by Anjana Dey were taught by Subinoy Roy when she was his student. Dave Isaacs (Nashville) is the current voice coach. Music arrangements and CD production are by Brent Moyer, Nashville.

Tagore and His India

Rabindranath Tagore, who died in 1941 at the age of eighty, is a towering figure in the millennium-old literature of Bengal. Anyone who becomes familiar with this large and flourishing tradition will be impressed by the power of Tagore's presence in Bangladesh and in India. His poetry as well as his novels, short stories, and essays are very widely read, and the songs he composed reverberate around the eastern part of India and throughout Bangladesh.

By Amartya Sen, August 28, 2001

1998 Laureate in Economics

The CD contains a booklet with translations of all twelve songs in English. It also contains prints of paintings of famous artists from India and never been published before,

with a cover depicting an art by A.N. Tagore, a gift to Jamuna Sen and inside sketches by Nandalal Bose, father of Jamuna Sen. These art works were made available to Anjana Dey by the courtesy of her aunt Jamuna Sen (deceased, 2000). Her inspiration encouraged Anjana to make the CD with English translation of the songs.

Proceeds will be donated by Anjana to Children's Cancer Fund.
Reviews
* Rabindra Sangeet
author: Jaydip Mukhopadhyay

Unique selections of Tagore's songs with fantastic presentation!
*author: Somshankar Dasgupta

The song selections are really good.Indeed this album is a collector's item.
* Songs of Tagore Volume II
author: Chandan Chakraborty

I always look for songs and music that can help me bring a mood for meditation. The selection of songs in this album of Anjana is indeed one of those, now in my collection. Such highly philosophical lyrics of Tagore when are sung with a sweet melodious voice like that of Anjana would undoubtedly bring within others also a state of mental quiescence.

* Immaculate presentation and melodious voice.
author: Susmita Das

Her rendition of Rabindrasangeet demonstrates matured presentation and sweetness of the songs. All the twelve songs Anjana sang, "had a touch of heart"..... and the songs elevated the atmosphere to ' a different dimension'. Listening to her songs is a pleasure. She always delivers a lively and wonderful collection of songs with a mature blend of thoughtfulness and emotions. I love this CD. Soothing melodies, very uplifting and calming. Indeed this album is a collector's item.