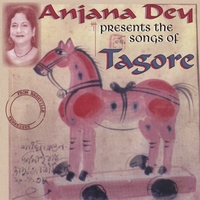 All twelve songs in this album (Volume I) have been chosen by Anjana.

One of the songs "Amar na bala bani ", from Anjana`s Songs of Tagore CD was featured by Prof. Amartya Sen, the Nobel Laureate, in his 2006 December NPR "Profiles" interview.

1 Amar Na Bala Bani
2 Ami Kaan Pete Rai
3 Aji Godhuli Lagane Ai Badala Gagane
4 Tomar Khola Haoa Lagie Pale
5 Arup Tomar Bani
6 Basante Ki Sudhu
7 Tomari Jharnatalai Nirjane
8 Ektuku Choa Lage
9 Phagun Haoi Haoi Karechi
10 Nitya Tomar Je Phul Phote
11 Aguner Parashmani Choao Prane
12 Aj Dhaner Khete Raudra Chayai
About Tagore

Rabindranath Tagore was a world renowned scholar, poet, writer and a philosopher. He championed Indian culture and philosophy throughout the world. His scholarship embraced a wide realm of arts, including composing poems and, writing novels, short stories, dramas, essays as well as painting. Tagore's songs, known as Rabindrasangeet, have made everlasting impression in the hearts and minds of Indians, and in countless others throughout the globe. He was a great humanitarian and a social reformer.

Tagore was born in Calcutta, India, on May 7, 1861. In 1909, he began composing Gitanjali (offering of songs) for which he was awarded Nobel Prize in Literature in 1913. 1n 1921, Tagore founded Viswabharati University in Shantiniketan, Bengal, India and donated his money from Nobel Prize and royalties from his books to Viswabharati. Tagore passed away on August 7, 1941.

About Anjana Dey

My family is from Shantiniketan , India and I grew up with Tagore's rich music blended with poems and lyrics. I studied and practiced Tagore's music all my life. I vocalized the songs of Tagore. CD produced by Brent Moyer, Nashville. The 12 songs that I vocalized were composed by Tagore in Bengali, but the CD contains a booklet with translations of all twelve songs in English. It also contains prints of paintings of famous artists from India and never been published before.

Because of my passion in Tagore's music and love for children, the proceeds from the sale of CDs are being donated to the Children's Cancer Research Funds at Vanderbilt University; $1,476 was donated in 2005.

Paintings

The cover of the CD depicts a painting by the renowned artist Nandalal Bose. This was a gift to his Grandson's (Suprabuddha Sen, Santiniketan) at a special ceremony at the age of 6 months. The inside of the cover portraying a fisherman is also by Bose and was a gift to his Grandson at his wedding. The childrens portrait was drawn by him for a food stall on the occasion of a children's festival. The sketches are the creation of Jamuna Sen.

Mentors

Anjana`s training in music began in her early childhood attending Gitabitan, a well reputed music school in Calcutta. After receiving her diploma, Gita Sen nurtured Anjana under her tutelage and recommended her to start advanced training under the guidance of Sailaranjan Mazumder, a well respected leader in Tagore's music. Later she came across Subinoy Roy, another authority in Tagore's music, who invited her to be his student for solo training. In her CD, Anjana vocalizes some of the songs Subinoy Roy taught her so passionately. She is currently taking her voice coaching from Dave Isaacs, trained in classical music from Manhattan School of Music in New York City. He is also a successful singer, songwriter and a recording artist.

Reviews
*author: Tad Williams

How lucky I was to meet and become a neighbor and friend of Anjana Dey. The music on this CD soothes my soul. I cannot wait for the next one!
* When is your next CD?
author: Mohamed Rafi

Hello Anjana,
When is your next CD? Expecting soon.
* Wonderful CD
author: Mohamed Rafi

Hello Anjana, this CD is amazing. The songs are melodious and I liked it. I enjoyed the music, voice and the paintings on the CD. Music has no language. But you also gave us the translations of all the twelve songs, thank you for that. It is wonderful that you donate the CD sale to Children's Cacner Research Funds. That is very nice of you. Congratulations and we are expecting your next CD soon.
*A wonderful CD, sung by a wonderful woman.
author: Janell Andrews

This CD is wonderful. As a long-time friend, Anjana is wonderful. This CD is well done and also facilitates an educational tool to Tagore and his greatness. The musicianship and production all team-up beautifully with the awesome voice Anjana projects and reflects in Indian roots. I applaud Anjana and her husband directing all proceeds from the sale of this CD to be donated to the Children's Cancer Fund... Hopefully this exceptional CD will tap many lives.
* A voice so melodious & perfect for Tagore's song that no one can match!
author: Arun & Jayshri Saha

Anjana, we have been enjoying your music for so many years, either in local concerts or playing old cassettes that we treasure. And now you have a CD. We have been listening to it over and over. It is great. As usual, it is very melodious, soothing and relaxing - right for any evening and weekend or holiday enjoyment. Your voice is beautiful, perfect for the Tagore's song .... as if it was made for that. We will be waiting for your next CD.
*Excellent, Inspiring. I absolutely love this CD.
author: Susmita Das

Beautiful voice. Inspiring melodies. I absolutely love this CD. It is deep, rich and soothing to inspire repeated listening. So much joy, grace and heart in Anjana's beautiful voice. Each track has its own creativity. This CD will warm your heart - very relaxing and inspiring. Just turn it up and rather than just listen to it feel the music and enjoy.....
*Excellent CD and western music blend is very innovative
author: Amal Mukherjee

Ever since I learnt to appreciate music, Rabindra sangeet (Tagore songs) has been my most favorite. They are my constant companion and source for joy and happiness and emotional, spiritual and intellectual upliftment. Anjana, I have been litening to your music for the past forty five years and now with your CD in my possession I can listen to it any time I want. It is a great CD and blended well with the western music. The songs bring back a lot of memory and happiness. We are proud of you.
*The lyrics are also beautiful. I loved Tagore's poems since I was a high school
author: Wen-ge Ma

"I enjoyed the songs very much! I'm so impressed with Anjana`s beautiful voice. The lyrics are also beautiful. I loved Tagore's poems since I was a high school girl. I still keep (brought from China) a book of his poems (in Chinese translations) with me. Thank you so much for providing us with these songs in their original language!"
* I like the ones with the flute background. I thought the arrangements were excel
author: Cass and Marguerite Cassings

"Wow - The postman made our day! Marguerite and I listened to Anjana sing those melodies and we enjoyed them. It was a new experience with us. Marguerite will have to tell you her enjoyment but I like the ones with the flute background. I thought the arrangements were excellent. We appreciate hearing all of them but we also want you to know we enjoyed hearing Anjana sing. A complete surprise!"
*
We have enjoyed your rendering of Tagore's song always, and on the CD you have d
author: Drs. Sudha and Tapan Chaudhuri

"Anjana, we commend you and your group for the excellent production of the CD on Tagore's songs. We have enjoyed your rendering of Tagore's song always, and on the CD you have done a superb job. It is very surprising and delightful, how Americans (your producer and the instrumentalists), totally unfamiliar with this kind of music have been able to perform so admirably. The translations of the songs into English are extraordinary. They have truly conveyed the meaning and spirit of the original writing. Sudhanshu and Pranab should be hugely complimented for these translations. The aesthetics of the booklet, complete with Nandalal Bose and Abanindranath's painting, are also excellent. Congratulations!"
*
I am often listening to the CD late at nightand the immortal Tagore songs so be
author: Dr. N. K. Mitra

"Anjana….Words cannot adequately express how much I have enjoyed this CD – the music is wonderful, it has blended so beautifully. The words are so good and this music fulfils our heart time and time again. Your voice has blended with the music- so much so one can be happy and reflective as one listens to the music. There are many beautiful things in the world which makes ones life so full and satisfying, this CD gives me some pleasure and fulfillment. I am often listening to the CD late at night, when the house is quiet and the immortal Tagore songs so beautifully rendered by you and your fellow musicians. You all should be very proud! Please accept this token for your favorite Charity ."