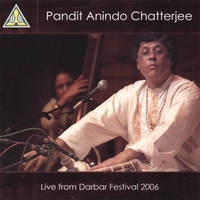 Between the 3rd and 5th of March 2006, a unique gathering of some of India's greatest musicians took place in Leicester to celebrate the life of Bhai Gurmit Singh Virdee, who sadly passed away on 3rd April 2005. A packed audience assembled at the Peepul Centre witnessed three days of exhilarating performances involving over 50 Indian musicians, a fitting tribute to Gurmit Ji's love of life, his musical talent, his spiritual endeavours and his selfless contribution to the music scene. Since the early 1950s, Bhai Gurmit Singh Virdee had been playing, promoting and teaching tabla. Respected throughout the Indian classical music circle, he performed with world-class artists and taught hundreds of students, many of whom are now renowned performers and teachers in their own right. Gurmitji developed Taal - Rhythms of India (1987-1996) the world's first dedicated organisation for promoting Tabla. Performances included Zakir Hussain, Swapan Chaudhuri, Anindo Chatterjee, Shankar Ghosh and many others. Tablaonline launched in May 2005 world's first portal percussion website. The 2006 Darbar Festival proved to be a landmark event on the UK Indian Classical Music scene and the largest of its kind in Britain to date.
Among the main attractions of the festival were the performances of three giants in the field of North Indian Tabla playing, Swapan Chaudhuri, Anindo Chatterjee and Kumar Bose.

Pandit Anindo Chatterjee is a phenomenon in the art of tabla playing. The power and speed combined with the total clarity and sweetness of his playing is testament to a lifetime of devotion through years of dedicated practice. His vast knowledge of repertoire and ability to improvise in all styles of tabla playing make him an invaluable asset to Indian music and a reference for its scholars. The spontaneity and intuitiveness of both his accompaniment and his solo improvisations speak of the depth of his artistry and often leave his audiences speechless.

The guiding force of Anindoji's amazing musical journey was his beloved uncle Biswanath Chatterjee. His family gave him wholehearted support for his musical endeavours from the very beginning with early childhood lessons from his uncle Amarnath Chatterjee. After receiving first prize in the All India Children's Music Competition at the young age of 6, he was accepted as a disciple by the esteemed judge, Guru Pandit Jnan Prakash Ghosh, with whom he received over thirty years of rigorous training. During this period Anindo perfected his technique and learned the rich repertoire of traditional tabla playing. In addition he also received two years of taleem (specialised training) from 1964-66 from Ustad Afaq Hussain Khan, a doyen of the Lucknow Gharana.

Anindoji's tabla solo debut was at age 10.He has since developed one of the most dynamic and rich tabla solo performance repertoires of his generation. Infused with the legacy of the Farukhabad gharana yet enriched with aspects of all gharanas, his performances are unpredictable and extraordinarily diverse. With technical and artistic brilliance he presents some of the rarest and most difficult material in the tabla repertoire, this at extreme speeds with uncompromised clarity and beauty. In addition to his vast traditional repertoire, he himself is the composer of countless compositions, through which he explores the realms of possibilities.

As an accompanist, Anindoji made his world debut in 1975, accompanying Sitar maestro Pandit Nikhil Banerjee. Anindoji's musical sensitivity and technical genius, combined with his majestic stage presence make him a favourite accompanist to all the pre-eminent musicians of India.

Over the course of his career he has shared the stage with the late Ustad Vilayat Khan, Pandit Ravi Shankar, Ustad Ali Akbar Khan, Ustad Rais Khan, Ustad Imrat Khan, Pandit Shiv Kumar Sharma, Pandit Hariprasad Chaurasia, and many others. In addition to performing on the stages of over 60 countries, Anindoji had the honour of performing as a delegate for the Government of India in Japan, Mongolia, and Russia and in 1989 was the youngest tabla player ever to perform at the House of Commons in London. From years of dedicated teaching Anindoji has many outstanding disciples making their way to the stage as stalwarts of the next generation. Among them are his son Anubrata, who is making his mark as one of the finest tabla players of his generation,and several talented foreign students who are performing both in their countries and in India.

1. Peshkar: Peshkar is an introductory improvisational form beginning in a slow tempo concentrating initially on a few select tabla syllables such as na/ta, ge, dha, dhin and tin. It gradually and skilfully unfolds by introducing a wider range of phrases and sounds from the vocabulary of the tabla. Each gharana, or tabla playing style, has its own Peshkar approach, and here Anindo Chatterjee performs in the traditional style of Farukhabad. The Peshkar is preceded by the lehera played on the Sarangi by Ramesh Mishra. The role of the Sarangiin this instance is to play a melodic motif outlining the framework of the sixteen beats rhythm cycle. Lehera playing is not simply the repetition of a fixed melody; it also serves to maintain the soloist's mood and temperament by inspiring the main performer. The subtle ornamentations play a significant role in the success of any tabla performance. Ramesh Mishra is a master in Sarangi playing, performing as a soloist and a popular accompanist for some of India's greatest vocalists.

2. Qaida: Qaida is a theme and variation form which has great scope for creative elaboration. It is a composed theme followed by a sequence of improvised variations known as palta played according to set rules. This a qaida from the Ajrara repertoire made famous by Ustad Habibuddin Khan featuring the phrase 'dine dina gine'.

3. Chand/Rau: Chand literally means rhythm. Chand is a playful form highlighting various syncopated accents. This chand composition evolves into Rau,a soft, ornamental composition type using rapid flowing strokes.

4. Delhi Qaida: Qaidas from the Delhi repertoire form the basis of the tabla repertoire for many other playing styles and are some of the first tabla compositions created. They have a distinctive sound quality by playing with single finger strokes.

5. Gat: The first gat is from the Lucknow repertoire followed by a composition of Ustad Rehman Khan. Gats are prized compositions in the tabla repertoire passed down by great masters.

6. Benares Bant: A famous Benares composition (dhige dina tirekite dina), played in Qaida style.

7. Khand Jati: These are improvisations based on playing five syllables in each beat. The improvisations are rounded off with a series of tehais, cadence phrase played three times to conclude a sequence.

8. Khand Jati Rela: The sequence is continued with a Rela based around the bol syllable 'terekete'.

9. Rau/Rela: Rela based on bol phrase 'dine gine'.

CD 2

1. Punjab Qaida: After establishing the correct tempo with the theka, the qaida is played in single speed followed by several palta variations in double tempo. The qaida is followed by a gat composed by Ustad Sher Khan.

2. Gat/Chalan: Composed by Ustad Feroz Khan.

3. Misra Jati Chand/Kayida /Rela: Misra Jati compositions incorporate different speeds, creating the effect of sudden gear changes within the composition. Misra literally means mixed. Jati is a system used to group rhythms.

5. Gat: The tempo is increased into Madhya laya (medium speed) before playing a Gat composed by Anindo Chatterjee.

6. Gat: Composed by Anindo Chatterjee.

7. Tisra Gat/ Chakradaar: A gat played in tisra (three beats in one), composed by Anindo Chatterjee. Followed by a chakradaar composed by Ustad Alla Rakha Khan from the Punjab gharana.

8. Drut Teentaal/ Tukra/ Chakradaar: The tempo is again increased into fast teentaal, and two tukras are played. These are followed by an anagat chakradaar composed by Anindo Chatterjee (Dha ketetak takete dha).

Next, two anagat compositions made by tabla legend Ustad Ahmedjan Thirakawa. Anagat compositions are skilfully designed to finish just a micro beat before the sam creating a feeling of anticipation.

9. Chakradaar: Composed by Guru Jnan Prakash Ghosh.

10. Anindoji's speech.

11. Chakradaar/Tukra: Composition of Jnan Prakash Ghosh is followed by tukras from the Lucknow gharana tradition inspired by the presence of Swapan Chaudhuri in the audience.

12. Chakradaar: Composed by Pandit Kishan Maharaj from the Benares gharana (Dhane Dhikete Dhatrake Dhikete).

13. Tukra/Gat/Chakradaar: Tukra composed by Ustad Sher Khan (Kat tete tete tete).

Gat composed by Ustad Keramatullah Khan from the Farukhabad gharana.

Gat composed by Ustad Ahmedjan Thirakawa.

Chakradaar composed by Guru Jnan Prakash Ghosh.

14. Gat: Composed by Ustad Amir Hussain Khan (Dha Kredhe tete dhage).

Gat composed by Ustad Masit Khan (na ghere dhet dhet).

15. Gat/Rela/Chakradaar: Gat composed by Ahmedjan Thirakawa (Dhere Dhere Ketetak Takete Dha)

Farukhabad and Purab style Rela with combination of 'dhere dhere'.

Chakradaar composed by Ustad Amir Hussain Khan of Lucknow (Kat Dha Ketetak).

16. Delhi Rela: Rela based on phrase 'Gerenag tag tete', followed by gat composed by Ustad Masit Khan.

17. Tukra/Real/Gat/Chakradaar: Tukra composed by Anindo Chatterjee.Dhere Dhere Rela composed by Guru Jnan Prakash Ghosh.Gat from the Punjab gharana tradition.Followed by Chakradaar composed by Guru Jnan Prakash Ghosh.

18. Chakradaar: Chakradaar composed by Guru Jnan Prakash Ghosh, followed by Chakradaar of Ustad Feroz Khan.

19. Gat/ Bedum Chakradaar: Gat composed by Ustad Feroz Khan followed by Bedum Chakradaar composed by Anindo Chatterjee. Bedum compositions are difficult to execute because there is no gap between the phrases which are played consecutively.

20. Laggi/Lari: From various gharana traditions performed in the style of the late Ustad Nizamuddin Khan. The performance is concluded with a tehai.

Tabla

The Tabla is the most popular and widely used drum of North India. Its colourful range of tonal qualities combined with its capacity to express remarkable rhythmic permutations make it a unique percussion instrument which in recent times has inspired and fascinated audiences worldwide.

The pair of drums consist of a high-pitched, precisely tuned dahina (also called dayan or tabla), and a low-pitched, less precisely tuned drum, the bayan. The dahina is responsible for many of the resonant ringing sounds (or bols). The bayan provides the bass and is recognizable for its swooping bass sound, which provides colourful embellishment. The bayan is often said to be where the soul of the instrument lies. Most frequently the tabla is used to accompany classical instrumental, vocal and dance performances, but as all tabla players will remind you there also exists a strong tradition of tabla solo playing. The history of tabla is shrouded in mystery and mythology; however it is most commonly thought to have developed in the area of Delhi in the mid eighteenth century. Initially, much of the inspiration for its repertoire was borrowed and adapted from other Indian drums including pakhawaj and dholak. However, over the period since then, tabla players have built up a huge repertoire of material specific to the dynamics of the tabla. This vast range of compositions has been made richer by the evolution of a number of distinct regional performance styles, known as gharanas, of which there are six recognised by the tabla community, namely, Delhi, Ajrara, Farukhabad, Lucknow, Benares and Punjab. These styles have played a major role in the development of tabla playing with regard to technique and repertoire.

The tabla player uses a vocabulary of semi-onomatopoeic syllables to represent the strokes on the instrument known as 'bols' (from the Hindi verb bolna, 'to speak'), a system which has been used to orally transmit compositions through the ages. Bols making up popular phrases such as 'dhage tina gina' and 'ketetake terekete', are recited by the player before playing, in a practice known as Pardhant, a kind of Indian version of rap. While in training a student is typically taught to speak the bols of the composition before actually playing it on the drums.

The solo tabla repertoire consists of a great variety of compositional forms, many of which are featured on this recording. The forms can be divided into two broad categories. Firstly, compositions of the' theme and variation' type are Peshkar, Qaida and Rela where a rhythmic theme is expanded and permutated using a variety of improvisatory techniques. Usually featured in the first half of the solo, these themes are pre-composed, but designed in a way to allow maximum potential for improvisation, testing the performer's creativity to the limit. The latter part of the recital most commonly consists of fixed compositions such as Tukra, Gat and Chakradaar, many of which have been inherited from great masters from generation to generation and are therefore highly prized by tabla players.

Reviews
Pandit Anindo Chatterjee plays these compositions with extraordinary intonation. The variety of textures he provides while not only maintaining teental but bringing out its magic is truly the work of a musical genius. This is a spectacular performance that after I had listen to this recording, my first time, I stood to my feet and clapped as if I really saw this concert. This is my sincere appreciation, Thank you Mr. Anindo Chatterjee.
-Ted from Salt Lake City, UT