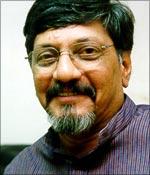 Mar 13, 2010 (Washington Bangla Radio) The New Jersey based theater group Epic Actors' Workshop will perform the Bangla Natok (Bengali play) Pagla Ghora (The Crazy Horse) directed by acclaimed Indian cinema and theater icon Amol Palekar on April 4, 2010 at 7:30 PM at the F. Scott Fitzgerald Auditorium, Rockville Civic Center, 603 Edmonston Drive, Rockville, Maryland.
The Pagla Ghoda performance is one of six stage plays that will be performed in a two-day Theater Festival organized by Natya Bharati (www.natyabharati.org) as a part of their Grand 25th Anniversary Celebration event, marking 25 years of excellence in Theater. The theme of the event is "bringing the community together through theater".
During the two-day Theater Festival, two full-length productions and four Short plays will be performed. The event flyer with complete details is available for download online here >
The two full-length productions are:
RON - Natya Bharati feature production in Hindi and English, directed by Suma Muralidhar. Set in the backdrop of the current conflicts in Iraq and Afghanistan, the play, RON explores issues of loyalty and patriotism in the context of an Indian immigrant family settled in the United States, where the only son decides to join the US army and gets deployed to Iraq. The larger issues of war are juxtaposed against the war(s) that each one of us continue to fight for our physical and emotional survival. The wars we fight are not always just and fair but we still fight them anyway. The play also poignantly portrays the challenges a family faces when a loved-one is fighting a war, especially a war that they may or may not believe in. Read complete synopsis >
Pagla Ghora in Bengali, directed by Amol Palekar, written by Badal Sarkar, presented by Epic Actors Workshop. At a linear narrative level, the play begins in the graveyard outside a village. Four men from different strata of the society - a chemist, a postmaster, a labor contractor and a school teacher - have come together to do the last rites of a dead, orphan, young woman. They sit beside a burning corpse; drinking, playing cards, waiting for the skull to shatter. They tease each other, crack crude jokes, and gossip about the unknown, dead woman. But as the night wears on, things start to change. The men's facades begin to crack. loss and yearning surface. anguish and regret overwhelm them. In the end, all of them cannot avoid facing a perennial question, why and why does a MAN tread warily, hold back, shield himself. Why? Read complete synopsis >

The four short plays are:

Agantuk in Marathi directed by Hemant Anikhindi
Radheya in Kannada directed by T. Srikantaiah (Kanti)
Attache Case in Punjabi directed by Dalvinder Multani
The Breast Chronicles in English directed by Sakti Sengupta performed by Gargi Mukherjee, Epic Actors Workshop, NJ

TICKETS:
Banquet on April 2nd FRIDAY (with Amol Palekar) - $35 per person
Full Festival (Sat and Sun): General Admission $40; Reserved Seating $75
Daily Pass ( Sat OR Sun): General Admission $25; Reserved Seating $40
Individual Plays: General Admission Only - $15 per play
To purchase tickets, send an e-mail to Subhojit Sen (also known as Subodh) at subhojits [at] hotmail [dot] com or visit Natya Bharati web-site.