From Walt Disney Pictures and the vividly creative mind of award-winning director Tim Burton comes the original soundtrack to the highly anticipated feature film. The score from Alice in Wonderland created by Burton's long time collaborator, nominated for 4 Academy Awards® and 10 GRAMMY® Awards, Danny Elfman, will musically lend a magical, whimsical and imaginative twist on one of the most beloved stories of all time. Danny Elfman has written close to 50 film scores featuring his unique sound including The Nightmare Before Christmas, Beetlejuice, Batman, Spider-Man, Edward Scissorhands, Men in Black and more.
The CD package includes 3-panel triptych showcasing the vivid world of Wonderland and key character images.
The CD is available online HERE.
Check out our exlcusive deals on ALICE IN WONDERLAND CALENDAR
and the timeless children's favorite book Alice's Adventures in Wonderland and Through the Looking Glass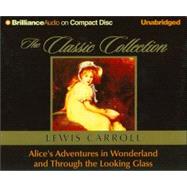 .