Shutter Island
Release Date: February 19, 2010
Runtime:2 hr. 18 min.
Rated R for disturbing violent content, some nudity and language.
Shutter Island Blu-Ray DVD Release: Order Shutter Island [Blu-ray DVD] >
Synopsis
The project centers on a U.S. marshal (Mark Ruffalo) who along with his new partner (Leonardo DiCaprio) travels to a Massachusetts island to investigate the disappearance of a patient from a hospital for the criminally insane. During their inquiry , the two encounter a web of deceit, experience a hurricane and become involved in a deadly inmate riot that leaves them trapped on the island. Ben Kingsley will play Dr. Cawley, the hospital's enigmatic chief physician who must reluctantly play host to the two U.S. marshals.
Shutter Island Soundtrack OST Release
Buy Shutter Island Original Soundtrack OST Album Online »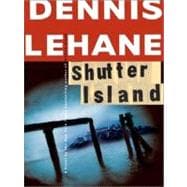 Buy Dennis Lehane's Book Shutter Island online »
Shutter Island Theatrical Trailer
Director Martin Scorsese's films have never used music as mere background noise. His attention to detail, especially when delving into a period piece, does not distinguish between the audible and the visual, a characteristic applied with great care on the two-disc soundtrack to 2010's Shutter Island. Produced by longtime collaborator Robbie Robertson, the tale of two U.S. Marshals sent to a remote Massachusetts island to investigate a murder is lent enormous weight by a score cobbled from the dismal atmospherics (the majority of the film takes place in a hospital for the criminally insane) of modern classical heavyweights like John Cage, Ingram Marshall, Max Richter, John Adams, and Brian Eno. Peppered between the long slabs of ominous avant-garde minimalist chamber music are fleeting rays of light from period radio crooners Kay Starr, Lonnie Johnson, and Johnnie Ray, resulting in a harrowing listening experience in its own right, and one that further cements the filmmaker's reputation as one of American cinema's most original voices. ~ James Christopher Monger, All Music Guide
Reviews
Great Story!
by movie_fan000
We just finished listening to the book Shutter Island by Denis Lehane on a long drive/trip--great book! Scorsese movies are usually excellent. DiCaprio, Kinglsey, and Ruffalo all are excellent...
Shutter Island
by Turner_classic
I was so excited to know that after reading the great book, that a movie with my favorite actors and director would soon to released (Oct. 2009). But now I see that the movie won't be out until Feb....
Can't wait to see this!!!
by njmoviefan
I'm sure the studio has it's reasons for moving the film to February. I simply can't wait! Martin Scorcese is one the best directors of all time! Go Marty!!!...

Cast: Leonardo DiCaprio, Mark Ruffalo, Ben Kingsley, Michelle Williams, Max von Sydow
Director: Martin Scorsese
Genres: Thriller