Aurora, CO, December 16, 2010 (Washignton Bangla Radio / PRWEB)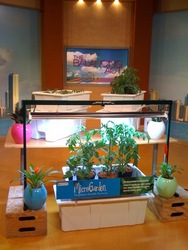 Growing fruits and vegetables without the hassle of a traditional garden is gaining popularity. Technology is opening doors to a new generation of green thumbs and has caught the attention of producers at "The Balancing Act," airing on Lifetime Television, who will air a segment on Indoor Hydroponic Gardening on Dec. 17th at 7 a.m. (ET/PT).
Appearing on the show will be The Big Tomato owners Jeremy Stout and Josh Field who make it their business to provide indoor gardeners with the tools to grow fruits, herbs, flowers, plants and vegetables without dirt and very little water. The segment specifically features two unique hobby gardens by Botanicare – the Microgarden™ and Turbogarden™.
"Hydroponics is a simple gardening method that allows the growing of fruits and vegetables year round, regardless of the weather, and without the abundant requirements of dirt, water and space needed by traditional gardening." Stout said. "We are very excited to have the opportunity to appear on 'The Balancing Act', which airs on Lifetime Television, and share these simple indoor gardening products by Botanicare with millions of views."
While on the show Stout and Field explain the concept of growing hydroponically and how easy it is to incorporate into a lifestyle routine regardless of your location and experience.

The Big Tomato is located about 10 minutes southeast of Denver, Colorado. Their website was founded for the discriminating indoor gardener and is supported by their brick-and-mortar store that opened in Aurora in the year 2000. Their staff has more than 50 years of combined indoor gardening experience allowing them to help serve their customer's every need. Hydroponics, the agriculture of tomorrow is here today. TheBigTomato.com encourages people of all ages to explore the exciting world of indoor gardening. Hydroponics is a fun, interesting, and exciting hobby that is essential to the future of our environment; it is also the only viable alternative to growing food in many places throughout the world. To learn more, visit TheBigTomato.com or http://www.facebook.com/bigtomatohydro and twitter.com/bigtomatohydro.
About Botanicare
Celebrating its 15th year as a leading global manufacturer in the hydro-gardening industry, Botanicare offers a comprehensive range of hydro-gardening products bringing the freedom and flexibility of growing-your-own to consumers around the world. Based in Chandler, AZ, Botanicare sells innovative leading brands including: Pure Blend Original, Pure Blend Pro, CNS 17, Power Series, Hydroplex, Liquid Karma, Sweet, Aquashield, CAL-MAG, Clearex, Silica Blast, ZHO, Ready Gro, Cocogro, and a complete line of accessories, plastics, and systems including Turbogarden and Microgarden. With its customer-focused strategy, you can find Botanicare products at over 1,000 independent retail stores throughout the US and Canada. To learn more, visit: Botanicare.com or facebook.com/botanicare and twitter.com/botanicare.
- PRWEB