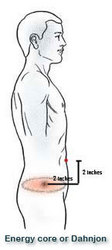 Gilbert, AZ, December 16, 2010 (Washington Bangla Radio / PRWEB) Dahn Yoga is currently hosting a series of videos through Dahn TV which can help you maintain your health and manage holiday stress. Dahn Yoga applies Traditional Eastern healing wisdom with simple, but effective exercises. This unique practice emphasizes stimulating the circulation of "ki (chi, qi)" through a system of energy channels in the body, known as meridians. This tradition also encourages the strengthening and warming of the body's core, since keeping the energy center ("dahn jon") in the lower abdomen warm is essential to overall health.
The most recent video presents simple techniques for dealing with the cold season. Traditional Eastern Medicine holds that environmental conditions influence the balance of energy in the body and thus affect health. In cold and damp weather conditions, cold and damp energy can predominate in the body, causing an individual to develop a "cold." In the video, the instructor says "I can show you a few things that can help make your cold a little more manageable."
Though Dahn Yoga does not propose to have a cure for the common cold, it does offer simple exercises which can boost the immune system, relieve symptoms and speed recovery. Breathing and tapping are essential tools for maintaining good health. For this condition, tapping the upper chest, an area of the body associated with the lungs, and along the "lung meridian" can improve circulation, help you breathe a little easier and feel warmer. In addition, abdominal breathing exercises can help you rest more easily, quiet coughing and clear up blocked breathing passages.
Additional videos include tips for dealing with shoulder tension, indigestion, insomnia and wrinkles. See more of these healthy living tips at dahnyoga.com/dahntv