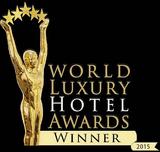 Noida, Uttar Pradesh, India, Nov 2 (Washington Bangla Radio): The World Luxury Hotel Awards, a recognized global organization providing luxury hotels with recognition for their world class facilities and service excellence provided to guests announced its global awards under various categories. Radisson Blu MBD Noida won the prestigious Country Winner award under the Luxury Hotel Category. These awards are presented to luxury hotels in different categories on a country, continent and global basis.

Radisson Blu MBD, Noida has always been committed towards providing luxurious services and quality experience to its customers. The hotel is known for its consistent work towards food, décor, ambience and services and holds credibility among the consumers. On the occasion of winning the award Ms. Sonica Malhotra, Director MBD group said, "It is a great honour to be named as the winner of the Luxury City Hotel. Perhaps it's about our efforts and optimism and never ever giving up. We truly appreciate the hard work of each one of the team members rallying collectively to help us win."

The World Luxury Hotel Awards aim to encourage and raise service standards within the luxury hotel industry and are held every year.
About Radisson Blu MBD, Noida
The Radisson Blu MBD Hotel is Noida's first 5 Star Hotel and the flagship Hotel of India's largest publishing house, the MBD Group. Bringing in the international Radisson standard of fashionably business to every aspect of hospitality, the hotel strives to create the most innovative and premium standards to each new F&B promotion.
Photo Caption: Radisson Blu MBD Noida won World Luxury Hotel Awards